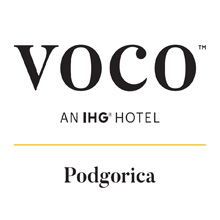 Hotel voco Podgorica
Address: Oktoih 2, Donja Gorica b.b
City: Podgorica
ZIP code: 81000
Country: Montenegro
Phone: +382 20 440 000
Location
6 km from city center
15 km from Airport in Podgorica
7 km from bus station
7 km from train station
Facilities
WiFi
Restaurant
Wellness
Covered pool
Open parking lot
Garage
Special need facilities
About us
Hotel ''voco Podgorica'' is located on the coast of the river Sitnica, not far from the city center, combining comfort, luxury and extraordinary service.
The comfortable atmosphere in modern rooms, traditional and international cuisine, as well as friendly staff are available during guest stay at the hotel!
Hotel "voco Podgorica" includes 81 rooms with twin and double beds, and guests have possibility of using Wellness&Spa center, Restaurant, Sport Hall and Conference Hall services. Front Office Desk is at guest disposal 24 hours.
Accommodation
Spacious and pleasant accommodation consists of 81 accommodation units of various structures. The hotel provides guests with the necessary comfort, peace, a pleasant working atmosphere and services designed to complement and enhance the guests' stay. It is part of the largest hotel group in the world, IHG, and as part of the group it meets ALL the high standards of the hotel industry.

Hotel ''voco Podgorica'', Montenegro has:
• 46 Standard rooms with 2 single beds,
• 12 Standard rooms with double bed,
• 10 Premium rooms with 2 single beds and smoking area,
• 2 Premium rooms with double bed and smoking area,
• 6 One bedroom apartments with double bed,
• 2 One bedroom apartments with french bed and living room,
• 1 two bedroom apartment ideal for families,
• 1 luxury apartment with two bedrooms and living room as well as
Conference capacities
When it comes to corporate occasions, a 285 m2-conference area (''Celebic'' and ''Verde'' halls) offers wide range of possibilities.
With an option of dividing into two completely independent rooms, at hotel can be organized two separate events at the same time.
A meeting room (''Sitnica'') is a perfect place for closed gatherings.
Additional facilities
Lobby bar, Gym, Half Olympic size swimming pool (free of charge for hotel guests), beauty center

| | U SHAPE | T SHAPE | CLASSROOM | BOARDROOM | SQUARE | THEATER | CABARET | BANQUET | COCKTAIL | TOTAL m2 | W x L x H |
| --- | --- | --- | --- | --- | --- | --- | --- | --- | --- | --- | --- |
| Name | | | | | | | | | | | |
| Celebic | 36 | 42 | 64 | 36 | 42 | 120 | - | 64 | 100 | 179 | 11,9 x 15,20 x 3,10 |
| Verde | 36 | 34 | 44 | 36 | 42 | 80 | - | 32 | 50 | 106 | 6,35/7 x 15,20 x 3,10 |
| Celebic + Verde | 60 | 42 | 100 | - | 50 | 240 | - | 110 | 200 | 285 | 19,40 x 15,20 x 3,10 |
| Sitnica | 20 | 20 | 28 | 20 | 24 | 30 | - | - | - | 63 | 7,80 x 8,20 x 3,10 |
* Capacities by halls for different seating styles
Technical equipment
Projector
Flipchart
Projection canvas
Microphone
Laptop
Translation equipment
Pointer
Rostrum
Sound System
Headphone
GPS coordinates
19.200669 (Dužine / Longitude)
42.417278 (Širine / Latitude)
Google Maps
Satisfied clients
• IDLO
• COE
• UNDP
• WHO
• CRNVO
• OSCE
• UMHCG
• CRINK
• Univerzum
• Logate
• Rukometni savez CG
• Fudbalski savez CG
• Odbojkaški savez CG
• Stonoteniski savez CG
• Vaterpolo savez CG
• Alter Modus
• Smart Vision
• Star Vision