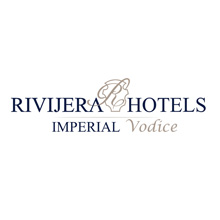 Hotel Imperial Vodice
Address: Vladimira Nazora 53
City: Sibenik
ZIP code: 22000
Country: Croatia
Phone: +385 22 454 471
Location
500 m from Vodice
12 km from Sibenik
61 km from Split
71 km from Zadar
Facilities
WiFi
Restaurant
Covered pool
Open pool
Open parking lot
Opened game courts
Bowling
Special need facilities
Children facilities
About us
Hotel IMPERIAL is situated at the coastline of the tourist resort Vodice, with its own pebble beach. It is surrounded by a beautiful park of Mediterranean plants. IMPERIAL Resort is the ideal blend of tradition and modern features.

The hotel has an air-conditioned guest restaurant, a-la-carte restaurant, aperitif bar, snack and cocktail-bar on the beach, a TV room, and the souvenir shop.

Guests can enjoy in various sport activities, health and beauty facilities: fitness, massage center (Aroma massage), tennis court and the children playground and outdoor pool.
Accommodation
165 double rooms, 15 triple rooms, 5 suites, 2 rooms for people with disabilities
Conference capacities
Are you planning an important business meeting, seminar, conventions or conferences, team building or maybe an exhibition? Increase your efficiency and success by inviting your team, associates and business partners to the Hotel IMPERIAL in Vodice.

Depending on the number of participants, business gathering can be organized in one of our five conference rooms: Kornati, Zlarin, Šibenik, Okit and Vodice.

If your business gathering is of a private nature and requires discretion, we recommend the Conference Room Zlarin. Its size of 30m² is the most suitable for meetings of up to 25 people.

Conference Room Kornati, with the size of 56m², is ideal for smaller business gatherings of up to 50 people. This conference room guarantees private atmosphere and has LCD TV.

For business gatherings of up to 100 people, we recommend the Conference Room Sibenik, size of 110m². It is adjacent to the main restaurant of the hotel. It includes conference lobby and a wardrobe suitable for the proper welcome of the guests.

The largest is the Conference Room Vodice. With the size of 335m², it is divided into two smaller rooms: Conference Room Vodice (200m²) and Conference Room Okit (135m²). Both rooms have conference lobbies with wardrobes.

| | U SHAPE | T SHAPE | CLASSROOM | BOARDROOM | SQUARE | THEATER | CABARET | BANQUET | COCKTAIL | TOTAL m2 | W x L x H |
| --- | --- | --- | --- | --- | --- | --- | --- | --- | --- | --- | --- |
| Name | | | | | | | | | | | |
| Zlarin | - | - | - | - | - | - | - | - | - | 29 | 4,80 x 6,00 x 3,10 |
| Kornati | - | - | - | - | - | - | - | - | - | 53 | 6,00 x 8,90 x 3,10 |
| Sibenik | - | - | - | - | - | - | - | - | - | 96 | 5,65 x 17,00 x 3,40 |
| Okit | - | - | - | - | - | - | - | - | - | 80 | 6,70 x 12,00 x 3,40 |
| Vodice | - | - | - | - | - | - | - | - | - | 214 | 13,0 x 16,50 x 3,40 |
* Capacities by halls for different seating styles
Technical equipment
Projector
Projection canvas
GPS coordinates
15.7889 (Dužine / Longitude)
43.7539 (Širine / Latitude)
Google Maps