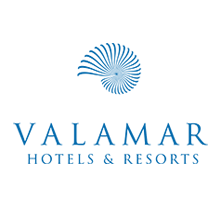 Valamar Riviera Hotel 4*, Villa Polesini
Address: Obala Maršala Tita 15
City: Poreč
ZIP code: 52440
Country: Croatia
Phone: +381 11 3960 388
Location
52 km from Airport Pula (PUY), Croatia
264 km from Airport Pleso (ZAG), Zagreb, Croatia
112 km from Airporto Ronchi dei Legionari (TRS), Friulia Venezia Giulia, Trieste, Italy
220 km from Marco Polo Airport (VCE), Venice, Italy
190 km from Brnik Airport (LJU), Ljubljana, Slovenia
Facilities
WiFi
Restaurant
Open parking lot
Business center
About us
Hotel Valamar Riviera offers luxurious rooms and suites, which paired with superior conference facilities in Villa Polesini in the heart of Porec's waterfront represents the excellent place for the organization of events.

Professional staff of Hotel Valamar Riviera is always ready to assist with every organizational detail of event, ensuring a MICE event to remember.

The nearby Villa Polesini is a separate facility that does not have accommodation facilities, but it represents a prefect meeting venue for the organization of business but and for the organization of celebration events.
Fully equipped meeting and congress rooms, catering and stunning seafront location, fantastic gardens and views that will elevate guests raises the bar when it comes to the organization of premium events - either business or celebratory function.
Villa Polesina is a few steps away from the Porec promenade where Hotel Rivera and Villa Parentino are located.
Accommodation
Hotel Valamar Riviera has: 2 single and 93 double rooms,1 room is completely customized for people with disability, 9 suites, and 7 luxury rooms and 1 presidential suite in Villa Parentino.
Conference capacities
Meeting room in Valamar Riviera Hotel, capacity up to 70 persons, provides the perfect venue for smaller functions and events.

The nearby Villa Polesini, perfect for spectacular events, features four modern, fully-equipped conference and meeting rooms over three floors, a cellar tavern with a wide array of drinks and beautiful garden for up to 250 persons.
Additional facilities
Show cooking restaurant, A la carte restaurant Spinnaker, Parentino wine bar, beauty centre, fitness, concierge

| | U SHAPE | T SHAPE | CLASSROOM | BOARDROOM | SQUARE | THEATER | CABARET | BANQUET | COCKTAIL | TOTAL m2 | W x L x H |
| --- | --- | --- | --- | --- | --- | --- | --- | --- | --- | --- | --- |
| Name | | | | | | | | | | | |
| Neptune | 30 | - | 40 | 25 | - | 65 | - | 60 | 70 | 63 | 4.7 x 13.4 x 3 |
| Neptune I | 10 | - | 15 | 20 | - | 35 | - | 15 | 35 | 38 | 4.7 x 8 x 3 |
| Neptune II | 10 | - | 15 | 10 | - | 25 | - | 15 | 30 | 25 | 4.7 x 5.3 x 3 |
| Cardo (Villa Polesini) | 45 | - | 50 | 50 | - | 100 | - | 100 | 100 | 129 | 7.1 x 18.1 x 3.5 |
| Decumanus (Villa Polesini) | 45 | - | 50 | 50 | - | 100 | - | 100 | 100 | 127 | 7.1 x 18.1 x 3.5 |
| Eufrasiana (Villa Polesini) | 15 | - | 25 | - | - | 40 | - | 25 | 40 | 47 | 6.8 x 6.9 x 3.3 |
| Marafor (Villa Polesini) | 10 | - | 15 | - | - | 30 | - | 15 | 30 | 32 | 4.8 x 6.6 x 3.3 |
| Garden (Villa Polesini) | - | - | - | - | - | - | - | 200 | 250 | - | - |
* Capacities by halls for different seating styles
Technical equipment
Projector
Projection canvas
DVD/CD player
Audio-visual equipment
Writing board
Location
Valamar Riviera Hotel 4* on the promenade in Poreč 100m from the city center, 30 meters from the sea.

Airport Pula (PUY), Croatia, 52 km from Poreč; Airport Pleso (ZAG), Zagreb, Croatia, 264 km od Poreča; Airporto Ronchi dei Legionari (TRS), Friulia Venezia Giulia, Trieste, Italy, 112 km from Poreč; Marco Polo Airport (VCE), Venice, Italy, 220 km from Poreč; Brnik Airport (LJU), Ljubljana, Slovenia, 190 km from Poreč
GPS coordinates
13.592605555555556 (Dužine / Longitude)
45.227336111111114 (Širine / Latitude)
Google Maps
Satisfied clients
Luxottica
Henkel
INA oil industry
CRO Association of orthopedists
Phillip Morris
Association of Pediatrics
ALLIANZ meeting of managers
BILLA
GIZ (German Economic Association)
VB Leasing
IBF TAIEX
IDS
Austrian Embassy
Olympic Committee
Famous jazz performers